… or more specifically, PANTONE 15-5519 Turquoise.
In their own words this is:
" … an inviting, luminous hue … Combining the serene qualities of blue and the invigorating aspects of green, Turquoise evokes thoughts of soothing, tropical waters and a languorous, effective escape from the everyday troubles of the world, while at the same time restoring our sense of well-being."
Indeed it does, especially if you own a property like one of these seaside beauties: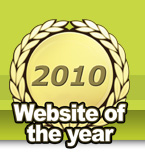 Thanks to you, we've been crowned Best Real Estate Website of the Year at the Website of the Year awards – Britain's most important people's choice award for websites.
The full list of category winners can be seen here.
This year, 259 websites were nominated over 18 categories. More than 800,000 votes were cast between November 3 and December 8 and other winners include: Boots, Abbey, BBC and Google.
So, a BIG THANK YOU to all who voted for us.
Here's a little more about the awards:
The Website of the Year awards are the largest annual 'people's choice website awards and are organized by MetrixLab since 2004, the global Online Market Research company that specialises in the areas of New Product Development, Brand Communication, E-Business Performance and Satisfaction Research.
I didn't think the MPs' expenses scandal could get any better (or worse) than Douglas Hogg's moat and Sir Peter Viggers' ornamental duck house.
But the latest noses-in-the-trough revelation – a £20,700 claim by Quentin Davies for repairs to the bell tower on his stately home – makes Hogg and Viggers look like dabbling amateurs.
Houses with bell towers, you might think, are a fairly rare phenomenon, but a quick trawl of FindaPropetry.com has turned up some fine examples.
So here, in case you're thinking of standing for parliament next year, are some properties with this delightful, if high-maintenance, feature.
Just be sure you have a full survey before you buy, because if problems do arise you may, in future, find it difficult to get the tax payer to foot the bill.
(Click on pics for more images and full property details)